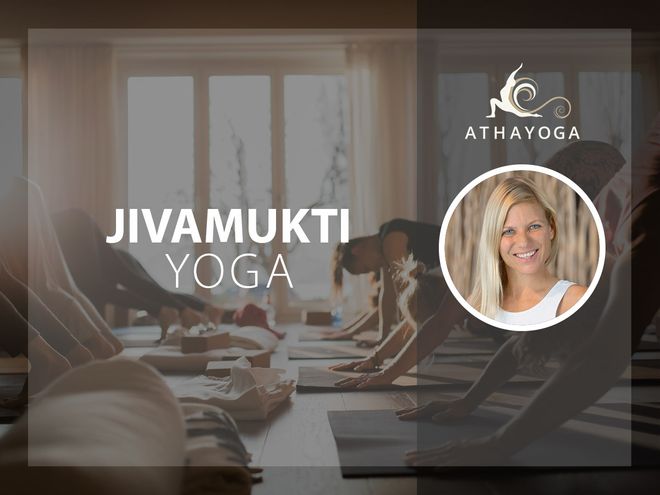 Jivamukti Yoga (EN) - LIVE Stream
Video
Originally live streamed on
Thu, 21/10/21, 18:30 - 19:45 (75 min)
Facility/Studio
ATHAYOGA - Zollikon
Available until
09/05/2022 19:45 o'clock
Price
11.90 CHF
Single ticket
0.00 CHF
DROP-IN LIVE Stream (FREE)
11.90 CHF
DROP-IN REPLAY
18.00 CHF
DROP-IN LIVE Stream
69.00 CHF
3ER TRIAL BLOCK (Probeabo)
79.00 CHF
5ER BLOCK ONLINE
89.00 CHF
UNLIMITED 1 REPLAYS | ONLINE
129.00 CHF
5ER BLOCK 60
169.00 CHF
5ER BLOCK ALL
179.00 CHF
UNLIMITED 1 PREPAID | ONLINE
255.00 CHF
10ER BLOCK 60
265.00 CHF
UNLIMITED 1 PREPAID
325.00 CHF
10ER BLOCK ALL
1,190.00 CHF
UNLIMITED 6 PREPAID
2,100.00 CHF
UNLIMITED 12 PREPAID
179.00 CHF

/ month

UNLIMITED 1 | ONLINE
189.00 CHF

/ month

UNLIMITED 12
220.00 CHF

/ month

UNLIMITED 6
265.00 CHF

/ month

UNLIMITED 1
About the class
Jivamukti Yoga (EN) The Jivamukti Open Class is taught in a Vinyasa Stile and presents classical Yoga teachings: dynamic asanas sequences, alignment, breath awareness, chanting, meditation and spiritual teaching. You can work at your own pace as Asana options will be provided. A typical Jivamukti Open Class incorporates the five tenets of the Jivamukti method: Bhakti (devotion), Ahimsa (non-harming), Nada (deep listening), Dhyana (meditation), Sastra (spiritual teachings). The class is always accompanied by inspiring music. The 'focus of the month" makes this class a well rounded experience. The class welcomes practitioners of all levels, yet it is advisable to have some Yoga experience.
Jivamukti Yoga (DE) Eine Jivamukti Openclass wird im Vinyasa Stil praktiziert und bietet alle Inhalte einer klassischen Yoga Session: Dynamische Asana Sequenzen, Alignment, Atem-Bewusstsein (Pranayama), Chanting und spirituelle Lehren. Es werden oft herausfordernde Sequenzen unterrichtet, jedoch stets Varianten angeboten, so dass jeder in seinem Tempo praktizieren kann. Eine typische Jivamukti Klasse richtet sich nach den 5 Säulen der Jivamukti Methode: Bhakti (Hingabe), Ahimsa (Gewaltlosigkeit), Nada (inneres Lauschen), Dhyana (Meditation), Sastra (Spirituelle Lehren). Begleitet werden die Klassen immer von inspirierender Musik. Der spirituelle "Fokus des Monats" begleitet den Unterricht. Diese Klasse ist für alle geeignet doch empfiehlt es sich ein Basiswissen der grundlegenden Asanas zu haben.
About the trainer/teacher
Freude, Begeisterung, eine Stimme aus Samt und ihre unglaubliche Bandbreite sind nur ein paar von Susens Markenzeichen, die bereits im zarten Alter von fünf Jahren mit Meditation und Yoga begonnen hat. Bis heute setzt sie ihre Reise ins Innere des Seins mit Dutzenden Ausbildungen und Selbsterfahrungen fort und hilft anderen dabei, sich selbst auf den Weg nach Innen zu begeben. Ihre Leidenschaft für Yoga drückt sich in jeder ihrer Yogastunden aus: Sie zaubert die passenden Goldstücke aus ihrem riesigen Wissensschatz (mit über 2000h Teacher-Trainings in Sivananda, Jivamukti, Vinyasa Flow, Yin Yoga, Lach Yoga, Pranayama und Meditation sowie diversen Coaching-Ausbildungen) hervor und begeistert ihre Schüler mit einzigartigen wie kreativen Yoga-Sequenzen. Ihre Herzlichkeit rundet jede Stunde perfekt ab.