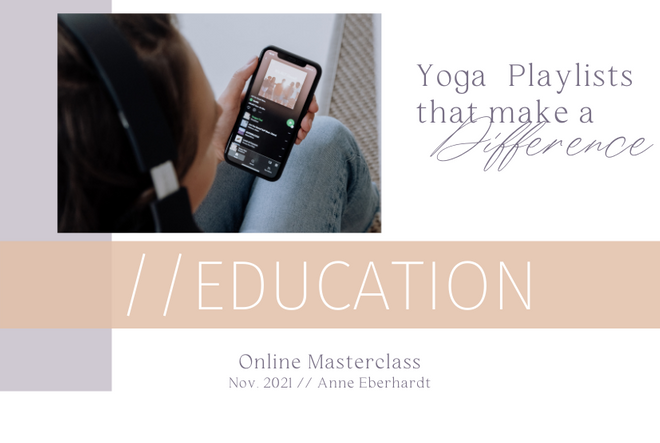 'Yoga Playlists that Make a Difference' Masterclass
Video
Facility/Studio
Bubble Yoga
Availability after purchase
4 months
About the class
Curious to learn how to create yoga playlists that truly make a difference in a class? Or simply wanting to make your own playlists to flow at home? Join Anne for this exclusive Masterclass learning all the tips & tricks she has gathered over the years creating dozens of playlists for all sorts of classes, workshops & events.
WHAT YOU WILL LEARN: (use the time markers to jump back to specific parts of the class if needed)
Why & how to play music in a class (07:25)
How to build a flawless playlist for Vinyasa, Hatha or Yin Yoga classes (35:20)
How to save time & be efficient preparing playlists (1:37:20)
Where to find music that inspires you & others
Tech tips on Spotify, Shazam, iTunes etc...
How to play music for Zoom & hybrid classes (2:00:25)
The magic of silence (2:14:45)
// Get ready with good headphones! // Start by sharing the last song you've added to your music app on our collaborative playlist: https://redirect.is/5dy3jh2
---
Anne is a full-time yoga teacher, studio owner & educator. Over the years she has taught thousands of hours & put together hundreds of playlists. She is a musician, music junkie & has even studied the art of Music for yoga with the one & only DJ Taz Rashid. Her classes are known for their curated soundtracks & the most clicked link in her newsletters is always to the Playlist of the month! Enjoy this fun Masterclass learning from her experience & passion for music!
About the trainer/teacher
Adventurous, open hearted and passionate, Yoga & Mindfulness teacher Anne Eberhardt is here to help you create more space for yourself; Through Yoga to bring movement to your body & reconnect to your breath; Through Mindfulness to quiet the mind & find more balance to navigate the real world; Through Community to create meaningful connections & empower each other to grow. She aims to inspire her students to believe in their own capacity to grow & know themselves. She encourages them to be grateful for their successes and playful with their challenges. She offers a safe space for them to practice free of judgement or competition, to connect to themselves & others. She believes in & is committed to 'Yoga for All'.