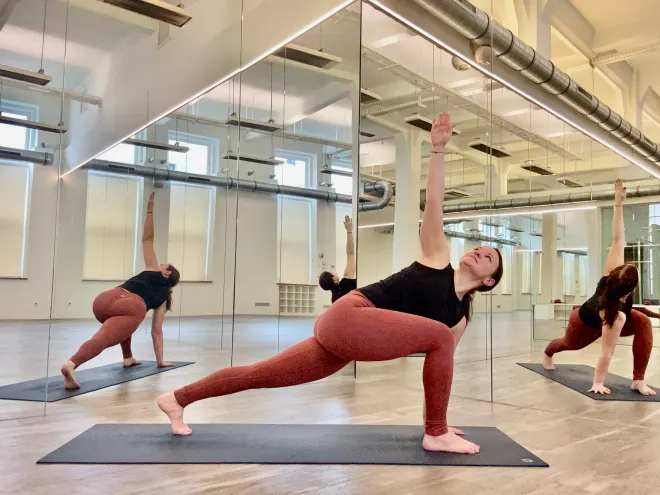 Yoga Routine 25 Min - english
Video
Facility/Studio
Yogaloft Vienna
Availability after purchase
48 hours
Price
| | |
| --- | --- |
| 10.00 € | Single ticket |
| 30.00 € | Yoga Videos (Zugang Videothek) - Wochenkarte |
| 90.00 € | Yoga Videos (Zugang Videothek) - Monatskarte |
| 95.00 € | Yoga Videos (Zugang Videothek) - prepaid 10 Klassen |
About the class
A short Hatha Yoga Routine for strength, energy and relaxation.
You start immediately with Sun Salutation and continue with a few asanas for deeper stretch and moves in all directions.
About the trainer/teacher
Als freischaffende Tänzerin für zeitgenössischen Tanz war die regelmäßige Bikram Yoga und Ashtanga Yoga-Praxis für Vera stets wichtiger Bestandteil des Berufsalltags. "Yoga zu praktizieren verhalf mir zu mehr Körperbewusstsein, Fokus, Präzision in der Bewegung und eine entspannte und selbstbewusstere Haltung – auf der Bühne und im Alltag." Von dieser fantastischen Wirkung des Yoga angezogen, hatte Vera das Bedürfnis, diese Erfahrungen mit ihrem Umfeld teilen zu wollen. Als staatlich geprüfte Tanzpädagogin war es immer ihr Ziel, Menschen verschiedenen Alters Bewegung und das daraus entstehende Wohlbefinden im eigenen Körper zu vermitteln und Freude entstehen zu lassen. Zuerst war dies im freien Tanz, nun seit fast 10 Jahren geschieht es im Yoga. Yoga vermittelt Vera ein Gefühl von innerer Freiheit und Stille, Ausgeglichenheit, Zufriedenheit und Achtsamkeit. Die Yogapraxis unterstützt in allen Höhen und Tiefen des Lebens. Alle Erfahrungen, die man selbst auf der eigenen Yogamatte im warmen Yogaraum durchlebt- positive wie weniger positive – verändern Körper und Geist, stärken das eigenen Selbst und das Bewusstsein wird erweitert. "Der Yogaraum ist dein Rückzugsort. Egal, was du heute im Stande bist zu tun, Yoga wirkt immer und darauf kannst du dich verlassen."